Listing Price:
$9,950,000
1090 James Lane, Versailles, Kentucky 40383
|
woodford County
|
450 Acres
1090 James Lane
---
Address:
1090 James Lane
Versailles, Kentucky 40383
---
---
Classification/Best Use:
Horse Farm, Land, Thoroughbred
---
---
Barns/Stalls:
5 barns, 92 stalls
---
---
Godolphin's continual refinement of its portfolio has resulted in an unparalleled opportunity. Developed with expertise and unerring attention to detail, 1090 James Lane offers world-class equine facilities in a desirable locale. Neighbors include Godolphin at Jonabell, Mill Ridge, Shadwell, and Winter Quarter farms.
The farm originated from formerly unimproved land around two decades ago and has been meticulously maintained. Gated entrances with significant, mature landscaping lend gravitas to the more than 2.8 miles of paved roads winding through the farm's 450 acres. Every feature has been situated to emphasize the farm's gently rolling hills and desirable viewsheds.
Four 20-stall barns and one 12-stall barn (for a total 92 stalls) were constructed by Coleman Calloway of Broadview Builders. The generous stalls measure 14 x 14, with center aisleways of 16 feet. Careful detailing ensures maximum light and air circulation. Lucas stall fronts, grills and glass exterior doors, as well as fly spray systems contribute to equine well-being. Each barn also offers appealing amenities for personnel, including a comfortable staff room with water closet, hot water, and heat. Feed and tack rooms add further utility. Outside, each barn boasts a loading ramp and ample green space, perfect for impromptu viewings of bloodstock.
Centaur fencing enhances the farm throughout. Eleven fields join thirty one paddocks to contribute to the capacious setting. Two residences, one recently renovated and another constructed ca. 2006, could serve as homes or offices.
Sinking Creek frontage, a pond, and an old stone springhouse add to the bucolic setting. The farm is also enhanced by a 50' covered lunging ring and a Monarch covered hotwalker for six, as well as an enclosed hay building. A 9-bay equipment building offers storage in addition to space for a shop.
NB:  The farm is located in Jessamine County but carries a Versailles/Woodford County address.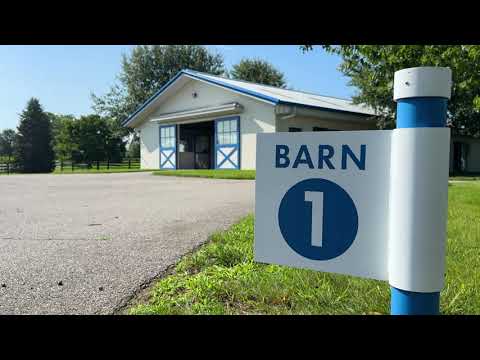 A Culture of Tradition
---
Gallery