Listing Price:
$2,750,000
1861 Evans Mill Road, Lexington, Kentucky 40515
|
fayette County
|
90.7 Acres
1861 Evans Mill Road
---
Address:
1861 Evans Mill Road
Lexington, Kentucky 40515
---
---
Classification/Best Use:
Crop or Cattle Land, Horse Farm, Retreat Property
---
---
---
---
---
Barns/Stalls:
1 barn, 2 stalls
---
---
---
Few have the privilege to call the Bluegrass Hunt Country home. This 90+ acre farm & residence offers a remarkable opportunity to steward the land once owned by the Evans family of Evans Mill. Immediate neighbors include Grassland, Juddmonte, Wimbledon, and Woods Edge, as well as the Iroquois Hunt Club.
The 4BR/4BA residence was constructed in 2016 by Jeff Gale. Thoughtfulness is apparent throughout the home, from the fine finishes to the first-floor primary suite with his and her bathrooms. Every convenience is provided for entertaining: an open kitchen with deck, heated pool, and a patio with outdoor fireplace, gas starter, and hot & cold water. The surrounding viewsheds have been tended by a professional arborist. Lake access is enhanced with a covered outdoor space and concrete pad for parties. Practical features include a 2-car garage, geothermal HVAC, ample storage, and an extensive security system.
Adding further utility is the diligently designed ca. 2016 horse barn with 2 stalls, washer/dryer hookup, hot and cold water, heated lab, loft storage, feed room & shed row storage. The farm has electric gated entrances to the main residence as well as the horse barn. Extensive water lines throughout with automatic waterers + spigots add to the ease of use. Top-grade wire fencing is also all in very good condition. Several conservation plans have been developed specifically for the farm.
Neighboring a local wildlife sanctuary, it hosts a remarkable wildlife presence of turkey and some of the largest deer seen in Fayette County.
The owners' vision and a special location make the farm an incredible opportunity for fox hunting or other equestrian pursuits, cultivating cattle, or as an unparalleled retreat property.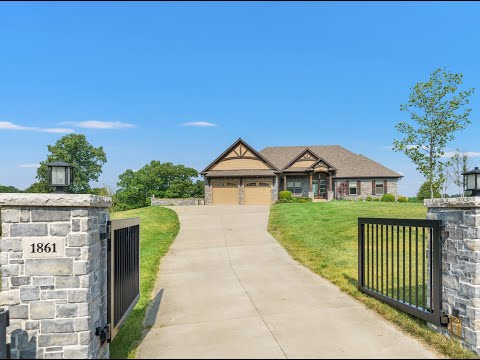 A Culture of Tradition
---
Gallery