3375-3491 Briar Hill Road
Listing Price:
$2,125,000
sold
3375-3491 Briar Hill Road, Lexington, Kentucky 40516
|
fayette County
|
66 Acres
3375-3491 Briar Hill Road
---
Address:
3375-3491 Briar Hill Road
Lexington, Kentucky 40516
---
---
Classification/Best Use:
Crop or Cattle Land, Historic Home, Horse Farm, Residential, Retreat Property, Sporthorse, Thoroughbred
---
---
---
---
---
Barns/Stalls:
1 barn, 10 stalls
---
---
---
Offered for the first time in 31 years, this very private estate property is also a magnificent long-term investment.
The farm measures an appx. 66 acres, but is actually in six separate Fayette County tracts ranging from 10 to 12 acres each! Immediate neighbors include Bryan Station Farm, Clarkland Farm, Gainesway, and Marylou Whitney Stables. The farm also directly adjoins the 280-acre Hisle Farm, a Lexington-owned park with miles of dedicated horse trails!
From Briar Hill Road, an unassuming entrance winds through thousands of trees and over a small stream. At its end is the ca. 1928 Warfield Gratz home, resting in a park-like setting reminiscent of Lexington's famed "Ashland" estate. The adjoining 3BR/2BA guest home is also ideal as a farm office or caretaker's cottage. One barn of 10-stalls is a few steps away, and conveniently located in the middle of four paddocks and one large field.
This and so much more is located only 10-minutes from the interstate, 12-minutes from Hamburg Pavilion, and 20-minutes from downtown Lexington! Farms in this location — with divisibility rights — are nearly impossible to acquire. Truly, this is a once-in-a-lifetime offering.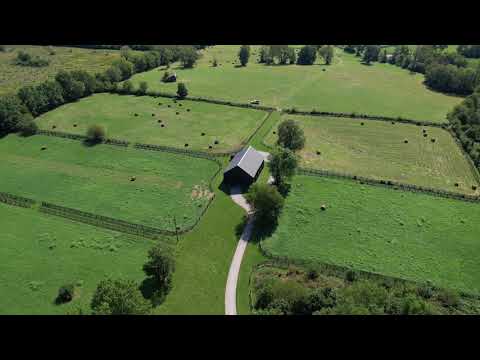 A Culture of Tradition
---
Gallery