Listing Price:
$4,450,000
sold
5876 McCracken Pike, Versailles, Kentucky 40383
|
woodford County
|
204.55 Acres
5876 McCracken Pike
---
Address:
5876 McCracken Pike
Versailles, Kentucky 40383
---
---
Classification/Best Use:
Historic Home, Horse Farm, Residential, Thoroughbred
---
---
---
---
---
Barns/Stalls:
3 barns, 52 stalls
---
---
---
Once a portion of Allen Paulson's famed Brookside Farm, this magnificent property is home to seventeen Eclipse award-winning champions, including two Horse of the Year award winners in Cigar and Azeri. Other champions include the Eclipse Champion trio of Escena, Ajina, and Eliza. Marked by proximity to the leading Thoroughbred nurseries, the farm is three minutes from Ashford-Coolmore, Godolphin-Gainsborough, Airdrie Stud, and Pin Oak Stud, with others such as Lane's End & WinStar less than fifteen minutes' drive.
The property rests along the Bourbon Trail, with Woodford Reserve lying less than a half-mile away. The main residence, 'Sweet Lawn', was constructed ca. 1831 by Samuel Pepper, son of bourbon distiller Elijah Pepper. It is an impressive Federal home measuring 3,728 sq. ft. with 3BR/2.5BA. The property's three barns (with a combined 52 stalls) are as practical as they are attractive. All barns are constructed of concrete block with asphalt aisleways and stall floors.
5876 McCracken Pike marries a rich heritage with forward-thinking improvements. There is no farm with as impressive provenance and impeccably-maintained facilities currently offered.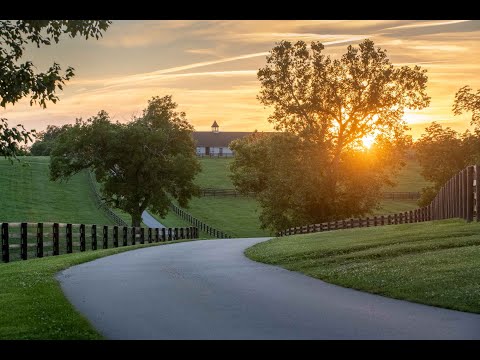 A Culture of Tradition
---
Gallery