Listing Price:
$6,250,000
4001 Iron Works Pike, Lexington, Kentucky 40511
|
fayette County
|
54.25 Acres
After Hours Farm
---
Address:
4001 Iron Works Pike
Lexington, Kentucky 40511
---
---
Classification/Best Use:
Historic Home, Horse Farm, Land, Residential, Sporthorse, Thoroughbred
---
---
---
Barns/Stalls:
1 barn, 6 stalls
---
---
One of only two private farms located within the Kentucky Horse Park, 4001 Iron Works Pike is the rarest of exclusive offerings.
With 52.25 acres of 100% prime farmland or farmland of statewide importance, the fine soils here have nurtured horses for generations. The farm's history begins in 1777 when Patrick Henry, then Governor of Virginia, granted 9,000 acres of land in the Kentucky Territory to his brother-in-law, William Christian, including the land that became the Kentucky Horse Park. Since that time, trotting horses, Thoroughbreds, Standardbreds and, more recently, sport horses have been cultivated here.
With its elite location tucked aside the KHP, the farm also boasts fine modern amenities for competing horses. Equestrians can easily hack to the show grounds from the farm, making the quick jaunt with ease, avoiding trailers & unfamiliar barns.
Fine training facilities include a self-irrigated 225′ x 115′ Ebb and Flow arena, six-stall center aisle barn complete with feed room, tack room, and 2 wash stalls.
Dotted with ancient burr oaks, the farm boats a 2± acre spring-fed pond & traditional rock fencing. A pool, mature landscaping and general brick patios lend a resort feel to the equine oasis. The charming main residence, two guest suites, and a manager's home contribute seven bedrooms, with ample space for hosting guests or housing employees.
Past stewards of the farm arranged a generous conservation plan, uniquely allowing for trailers/campers, temporary structures during the months of April to September, for "agriculture, including show or sport uses.
For guidance reviewing relevant easements, please contact Broker Zach Davis for connection to an expert team.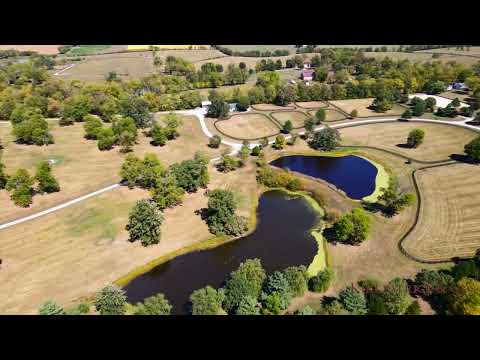 A Culture of Tradition
---
Gallery