Listing Price:
$3,400,000
sold
1589 Newtown Pike, Georgetown, Kentucky 40324
|
scott County
|
32 Acres
The Hollys
---
Address:
1589 Newtown Pike
Georgetown, Kentucky 40324
---
---
Classification/Best Use:
Historic Home, Horse Farm, Residential, Retreat Property, Sporthorse, Thoroughbred
---
---
---
---
---
---
---
The Hollys rises enviably high above the banks of the North Elkhorn on the Newtown Pike, offering verdant vistas from a regal vantage above. Noted for its elegant simplicity, the estate's bold portico & pedimented entablature with dentils displays the strong yet refined manner favored by Bluegrass gentry of the time. Architectural historian Clay Lancaster & others note its similarities with Scotland and Colonial Home, oft-admired contemporary examples of the Grecian style.
In its 177-year history, the estate has borne many names. Originally built in 1845 for physician & farmer William Addison Smith, the home is often attributed to architect John McMurtry. The home may have incorporated an even earlier (possibly Federal) structure into its construction as a wing. Lying high above the creek, it bears good company in its location near the historic Johnson Mill. The Elkhorn was an early hub for commerce, with Scott Countians desiring homes nearby for both convenience and renown. At the turn of the nineteenth century, Mary Dolly Withers Brooker operated a spa at the estate, undoubtedly attracting visitors with the tranquil waters below.
In 1939, a new steward christened the home "The Hollys" & commenced a thoughtful restoration led by architect Robert McMeekin. Contemporary materials were sourced extensively, including brick gleaned from the Cherry Spring Presbyterian Church of Newtown, which had also been built by McMurtry. The owners further contributed mahogany woodwork featuring a Grecian motif of Pan & the wood nymphs and a mantel sourced from a previous home in St. Louis.
Later owners shared the affinity for the home's careful stewardship, respectfully maintaining its character while artfully adapting it for modern use. Today, the residence anchors the farm's manageable thirty acres. The home works in concert with the outdoors, through the creation of rooms framed with purposeful landscaping. Ancient trees grace the manicured grounds, providing a leafy backdrop for entertaining. Significant professional lighting further begets spaces ideal for evening alfresco celebrations.
A well-appointed guest house boasts a first-floor primary suite among its three bedrooms. A converted tobacco barn contributes equine utility with a fine tack room.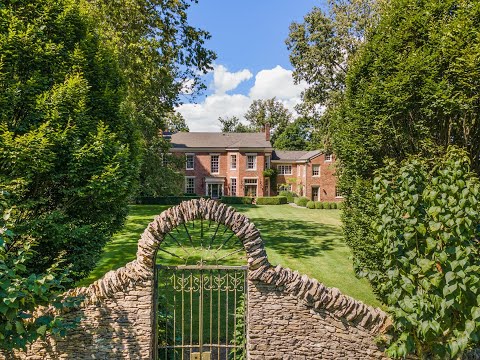 A Culture of Tradition
---
Gallery